Vivat Turn Table Scope of Use
Do you need quick product photography, 360 images, video or 3D? Let us help!
Interactive 360° Photo
Increase sales by giving your customers a more engaging, interactive view of your products. Vivat Turn Table efficiently photograph stunning 360° product spins. Usage of this technology will lead to more orders and as result more profits for E-commerce.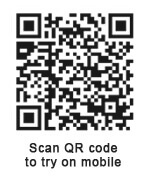 One Click Batch Photo
Tired of changing the product position manually every shoot? Device takes a set of photos from user angles. You can capture individual frames from predefined positions (for example, five photos per product).
Now you don't need to change the object position manually. Just press one button and the photo series is ready.
Automation saves your time.

Awesome Video
Create interesting and original videos. Device accuracy allows to shoot smooth videos with rotating objects.
This function may be useful for shooting advertisements, restaurant menu presentations, filming jewellery, etc.
Vivat Turn Table – irreplaceable assistant for video bloggers. It will allow to present overall look of the product as well as its possibilities and specifications.
Photogrammetry / 3D Scan
Often the image capture and editing process is a time consuming task that requires a skilled user to shoot precise angles to create the image set that will be imported into the 3D modeling software.
Vivat Turn Table can be usefull addon for your 3D scan equipment.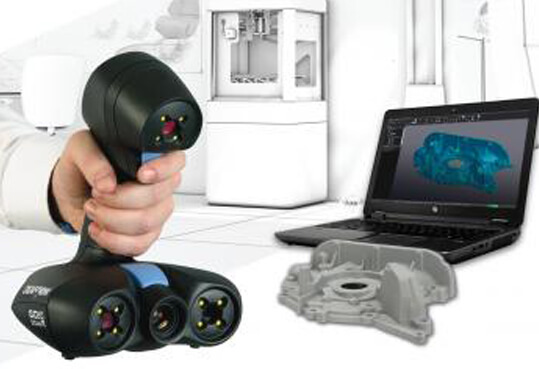 Our Turntables
Devices for automatic product photography/videography
Photographing automatization device designed for online stores. A great tool for creating 360° spins.
– automated shooting process (turntable controls the camera)
– operating modes: photo 360, batch photo, video, manual mode
– vibrationless (suitable for jewelry shooting)
– changeable surfaces (optional surfaces up to 60cm available)
– can work from 12 V battery (sold separately)
– tripod mounting 1/4″ and 3/8″ for outdoor use
– free worldwide shipping
– one year warranty
– device size: 260 x 260 x 90 mm
– surface diameter: 260 mm
– maximum object mass: 20 kg
– power: 220V / 110V / 12V
– frames in photo mode: 1 to 360
– speed: 5 sec – 2 min per rotation
– Vivat Turn Table D-26 with changeable surface (diameter 26 cm)
– power cable 220/110 V
– camera sync cable with individual camera adapter
– infrared remote control
– transportation bag
– full version of Vivat Photo 360 software (for Windows)
READ MORE
Industries
Vivat products are used across industries for various purposes
Click on icon to view an example
Vivat Photo 360°
Photo Sequence Editing Software
SOFTWARE DESCRIPTION
Full version of the Vivat Photo 360 windows software is available for all Vivat Turn Table buyers.
It's easy to use photo 360 stitching software which allows you to edit the image sequence and create a web script, GIF file or upload photos to our partner's site sirv.com.
Turn sequences of JPG images into interactive 360 product views.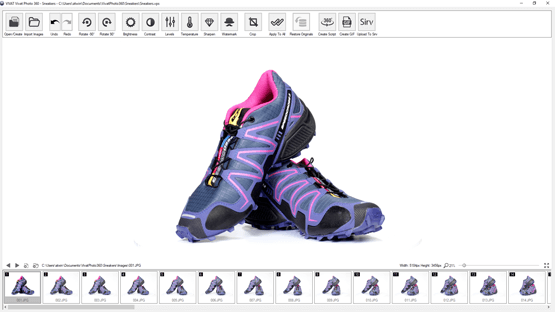 ROTATION AND CROPPING
Images can be rotated by 90° clockwise or counterclockwise.
Cropping tool allows you to crop or clip images. This tool is often used to remove borders, or to eliminate unwanted areas, to provide you with a more focused working area.
During cropping you can view all sequence images to make sure each of them fits into the selected area.
IMAGE PROCESSING
Image adjusting tools:
– brightness, contrast
– levels
– color temperature
– sharpen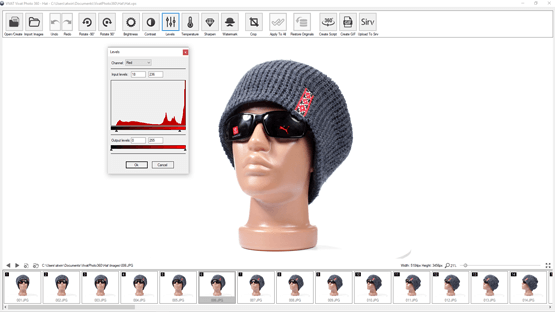 WATERMARK
Image Watermark allows you to automatically watermark all images in sequence. You can add company logo, website address, product name, etc…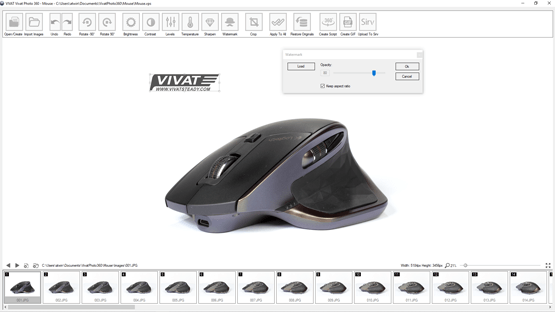 SCRIPT SETTINGS
Many script settings are available, including:
– image size and quality
– automatic rotation and direction
– mode (loop or from side to side)
– speed, temp, delay, mouse cursor look, etc…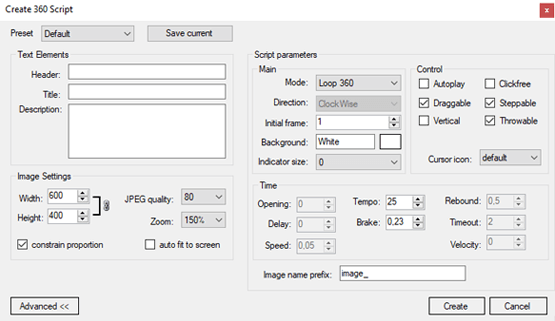 SIRV.COM SUPPORT
Vivat Photo 360 supports uploading images to sirv.com service.
SIRV benefits:
– fast and easy photo 360 integration with your web site
– most popular CMS are supported (WordPress, WooCommerce, Magento, Shopify, Drupal..)
– spin customization options
– optimized for mobile devices…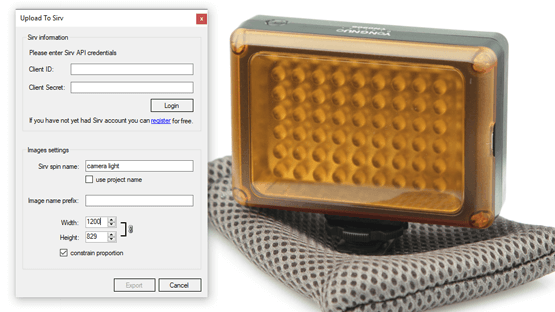 Download demo
Frequently Asked Questions
Please find answers to several FAQs below
Large or small e-shoppers or online retailers, photography studios, video bloggers, manufacturers, museums etc.

The most commonly used is Vivat Turn Table D-26. It is useful for shooting objects weighing up to 20kg. But if you need to capture heavy objects, like: humans, furniture, large appliances… you may need Vivat Turn Table D-70/100.

Vivat Turn Table D-26 / D-70 / D-100 supports cameras with remote shutter release connection port (almost all dslr and mirrorless cameras). You can check the camera user manual for availability of this port. It is used for wired remotes. Also you can look for your camera model when select adapter on buy page.

One product spin (usually captured from 24-36 frames) Vivat Turn Table D-26 can shot (depending on the camera model and light used) within 10-20 seconds in continuous shoot mode.

Built-in LCD screen, control buttons on the device body and IR remote eliminate the need for PCs or other controls. Some cameras (Canon, Nikon…) come with special software that allows to realtime view and download images to PC.

We currently accept payments from Paypal and Payoneer. You are also welcome to ask us about other payment methods. Your products will be supplied after your payment is cleared.
We ship orders via Ukrposhta (parcel with tracking number). Fast shipping: EMS, DHL, FedEx are also available by agreement.
Vivat Turn Table D-26 with accessories we ship for free via Ukrposhta. Shipping cost of Vivat Turn Table D-70/100 calculates in the cart.
We are not responsible for any duty/import/taxes/customs/etc charges you may incur.
Testimonials
Thank you guys from VIVAT. Turntable is SUPER. I use it with a lightbox to shoot shoes for E-commerce. The process accelerated up to 4-5 times. Analogues cost from $ 1000 and, as it turned out, are not better. I recommend it to everyone.